Outfitting a race trailer, and making everything fit in safely and securely, is one of the biggest challenges a racer can have off the track. It can also make the difference between racking up a win or sitting out a race. 
Knowledgeable racers realize the importance of outfitting a race trailer with the necessary tools, support equipment, and replacement parts, and keeping it all organized can often make the difference between winning and losing. It's not uncommon to see racers and their crew frantically searching their trailer for a desperately needed special tool or replacement part in the middle of an event. Regardless of the size of the unit, whether large or small, every racer has gone through the chore of outfitting it, jokingly referred to as putting 10 lbs. of "sand" in a 5 lb. bag.
Using available cabinet, floor and wall space as effectively as possible is key. The task may be greatly simplified if you have good organizational skills and are aware of the many trailer related products that are available from suppliers including Allstar Performance, Clear One Racing, Hepfner Racing Products, and Pit Pal Products. Many of these products are purpose built, designed to secure tools, lubricants, and other items so they may be stored safely and conveniently, while keeping gross trailer weight to a minimum and maximizing available floor space.
One important fact to keep in mind at this point is to keep gross trailer weight within the limits of the tow vehicle, trailer, trailer hitch, and receiver. The unit should be weighed fully loaded with race car, tools, and all support equipment. It's equally important to know that after all the cargo is loaded, the tow vehicle should be able to safely pull it. While a set of sturdy wood storage cabinets may be purchased from the local home improvement store for a bargain price, the added weight may result in compromised pulling power, fuel economy, and most importantly, braking ability.
A priority when outfitting a race trailer, tool boxes should be properly secured to the floor or countertop. They should be bolted down if their installation is intended to be permanent. Smaller tool boxes that may need to be moved on occasion should be secured, with one approach being the use of angled aluminum, available from Allstar Performance. Regardless of size or weight, tool boxes should be adequately secured to prevent them from becoming large projectiles during hard braking or when avoiding unforeseen road hazards. A Michigan-based drag racer recently suffered a substantial amount of damage to the front end of his race car when a tool box became loose and tipped over onto his car.
A wide variety of lightweight cabinets and racks are offered to help keep lubricants, aerosols, and other items handy. Allstar, Clear One, Hepfner, and Pit Pal each offer a variety of storage units. One of the most popular is Pit Pal's 25th Anniversary Edition Trailer Door Cabinet (PIT320A) that can secure a wide variety of lubricants, aerosols, and other accessories. The lightweight fabricated aluminum cabinet can be mounted easily to a trailer wall or door, and includes two paper towel holders. Clear One offers similar Door/Wall Cabinets (CLRTC138 or CLRTC156), manufactured from lightweight, high-strength plastic materials.
While most racers concentrate on outfitting their trailers with all of the necessary tools and equipment that they typically use, some may go to the extent of installing small microwaves, refrigerators, etc. in their trailer to provide some of the "comforts of home". Angled aluminum may also be used for securing these types of items to floors or counter tops. Always ensure that each is secured properly as the roadways traveled are populated with potholes and obstacles that can make for a rough ride.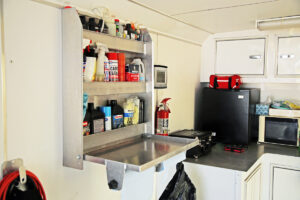 A variety of specialized floor mounts are readily available to secure fuel jugs, floor jacks, and other items. Pit Pal's 2-Jug Fuel Rack (PIT181), for example, is popular with racers in securing 5-gallon fuel jugs. There are also a variety of specialized wall mount brackets and hangers offered that are designed to conveniently store ratchet tie downs, electrical cords, air hose, etc. directly to a trailer wall. Pit Pal's Tie Down Hangers (PIT217 or PIT218) and Universal Hanger (PIT170) are among their most popular.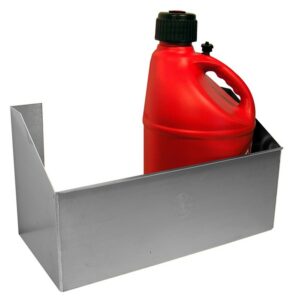 Most entry-level enclosed trailers feature marine-grade plywood floors, which can become hazardous if they become wet. Aluminum diamond plate, offered by Allstar Performance in 4' x 8' sheets (ALL22240), may be used to upgrade the floor to a durable, non-slip surface, or used to create runners. It may also be used to effectively create a platform and add storage space to the trailer tongue for a spare trailer tire or generator. 
One important item that shouldn't be overlooked when outfitting a race trailer is keeping a fire extinguisher handy. Allstar Performance offers 2.5-lb. (ALL10500) and 5-lb. (ALL10502) units, each complete with wall mount brackets.
A trailer that has been effectively organized with the necessary support equipment is invaluable, particularly when the need arises for a specific replacement part that means the difference between making a quick repair between races and possibly winning the event, or becoming a non-qualifier due to breakage.