The GM Gen V LT engine family offers some great technological improvements over prior engine families, but will it replace the popular LS for engine swaps?
While the release of the 2014 C7 Corvette marked the debut of the Gen. V LT engine, it didn't truly become GM's go-to powerplant until the last Gen. IV LS rolled off the assembly line in 2020. All indications are, however, is that the LT is yet another example of GM's on-going effort to improve fuel mileage and performance through increased engine efficiency. 
Similar to the previous generation LS engine family, the Gen V LT remains a deep skirt, cam-in-block pushrod engine with 4.400″ bore centers and six-bolt main caps, while still utilizing AFM (Active Fuel Management) and VVT (Variable Valve Timing). Offered in 4.3L (V-6), 5.3L, 6.2L, and 6.6L displacements, all LT blocks are manufactured from premium 319-T7 aluminum with the exception of the newest addition, the 6.6L L8T, which is constructed from gray iron and common to all 2020-up Chevy/GMC 2500HD and larger trucks. Standard 5.3L passenger car and light pickup crankshafts are manufactured from nodular iron, while the 4.3L, 6.2L, and 6.6L engines utilize forged steel crankshafts. The LT also retains the same 2.560" main and 2.100″ rod journal sizing, center main bearing thrust location, 9.240″ deck height, .842″ dia. hydraulic roller lifters, 3.622″ stroke, and 6.098″ long, forged powdered metal connecting rods.

Although the two engines share quite a bit of component sizing, it's important to note that there are virtually no components that are interchangeable between the LS and LT. While there are some similarities, the LT offers several significant technological improvements including reduced, 12° valve angle cylinder heads, piston cooling jets, a variable displacement oil pump, a refined cooling system, and most notably, GDI (Gasoline Direct Injection).
While some may assume that GDI is relatively new, it was first introduced in low-compression truck engines back in the 1920's. However, it wasn't until 1996 that Mitsubishi became the first manufacturer to utilize it in mass production automobiles. Common to roughly 50% of all vehicles manufactured today, it uses a cam-driven, high-pressure mechanical fuel pump that injects fuel directly into the combustion chamber at over 2,100 PSI for improved combustion efficiency. Special reservoirs, located on the piston crowns and directly across from the injectors, aid the process. 
The Gen V LT is topped with a high-flow composite intake manifold, and 356-T6 aluminum cylinder heads that include large rectangular ports and an improved 12° valve angle. Intake and exhaust valve orientation is additionally reversed to help improve air flow. The heads are fitted with higher 1.8:1 ratio rocker arms to provide increased valve lift along with stiffer valve springs and thicker wall pushrods to endure the additional valve train load.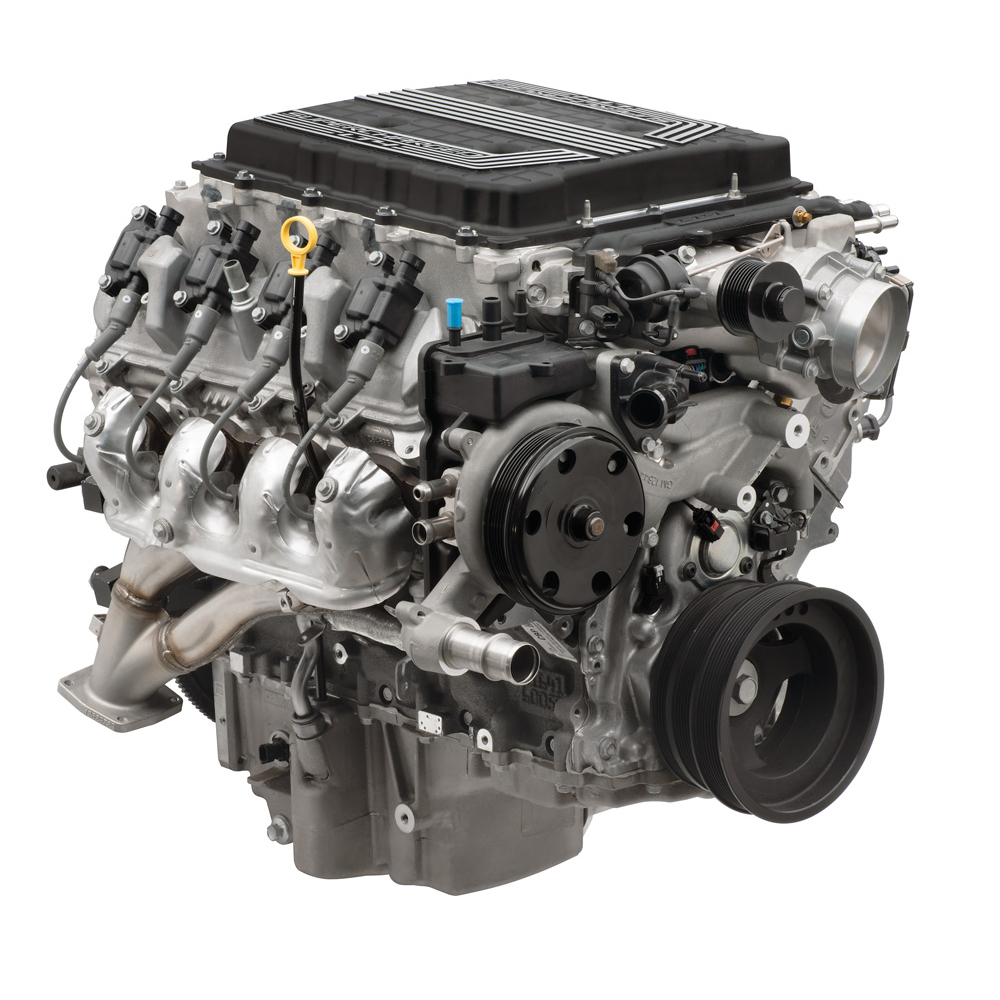 While relatively new to modern gasoline engines, piston cooling jets have proven effective in aircraft and diesel engines dating back to the 1940's. They mount at the bottom of each cylinder adjacent to the main bearing bulkheads, and spray pressurized oil on the underside of the pistons to effectively reduce piston temperatures, allowing the engine to utilize compression ratios of up to 11.5:1 without the risk of detonation, while also eliminating piston skirt scuffing. Piston cooling jets are also becoming increasingly popular in applications that are plagued by soaring piston temperatures such as those that are turbocharged, supercharged, or nitrous-assisted.
Another key addition to the Gen V LT is the use of a variable displacement oil pump. Both GM and Volkswagen AG (VW/Porsche/Audi Group) have used them in varying production engines for over 10 years with much success as they have been proven to add 3-6% to overall fuel economy. Traditional, fixed-displacement cam- or crank-driven oil pumps provide the same output, regardless of oil temperature, viscosity, or engine demands, and therefore, are not as efficient. The LT employs a vane-style pump with Dual-Pressure control that is monitored by the vehicle's PCM.  The PCM, in coordination with AFM (Active Fuel Management), relies upon gathered data including engine load, engine speed, IAT (Intake Air Temperature), and ECT (Engine Coolant Temperature), and uses an electronic oil pressure-controlled actuator incorporated into the pump to adjust output as required.                      
With all of these attractive high-tech features, it's no wonder that the LT's popularity is soaring among performance enthusiasts, and as a result, the high-performance aftermarket is responding with a wide variety of products to swap or modify the engine. The 6.6L L8T, in particular, will certainly become a favorite among racers who desire an engine that features high-flowing aluminum cylinder heads combined with maximum cubic inches and the durability associated with an iron block.
Through its family of brands, Holley has already introduced a wide variety of engine and transmission mount kits, oil pans, exhaust headers, EFI fuel tanks, and accessory drive systems to ease the swapping the of the LT into early model vehicles including the GM '67-69 "F" body, '68-74 "X" body, '63-87 Chevy/GMC truck, and '87-06 Jeep Wrangler YJ/TJ. Kits for other popular applications, such as the '64-72 GM "A" and '78-88 "G" bodies, are sure to follow.
Sure to gather interest from LT engine swappers are Holley's Terminator X and Terminator X Max standalone engine management systems, designed exclusively for enthusiasts that are swapping an LT1 (6.2L), L83 (5.3L), or L86 (6.2L) engine into an early model vehicle. Each plug and play system includes an engine harness that plugs directly into the OEM LT DI injector sub harness, and a 3.5″ handheld controller pre-programmed with a step-by-step calibration wizard to get the engine up and running. The Terminator X Max includes additions for drive-by-wire throttle control, and GM 4L60 and 4L80 transmission control.
There are also a variety of high-performance engine upgrades that have become available and are ideal for transplanted LT's, or late model LT-powered Corvettes or Camaros. MSD recently released the Atomic Air Force (MSD2700, MSD27003, & MSD27004), a two-piece polymer intake manifold that directly replaces the stock intake. Developed using advanced Computational Fluid Dynamics (CFD) technology, the manifold includes a larger, 103mm throttle bore and adds up to 20 horsepower over the stock LT1 intake, according to the experts at MSD. Moroso offers a pair of fabricated aluminum oil pans (MOR21154 and MOR20155) for the LT as well, both with trap door baffling and removable windage trays for improved oil control. While the LT boasts more technological advancements than the previous generation LS, the jury remains out whether it can eventually overtake the LS's current popularity with performance enthusiasts, but it certainly seems to be off to a promising start.